Keeping your Florida vehicle registration up-to-date can be a bit challenging. Whether it's renewing or replacing, pertinent laws stipulate that all motor vehicles must have an up-to-date registration to operate legally on Florida roads.
This article guide will take you through each step of how to easily renew or replace your Florida vehicle registration, including procedures and fees involved.
Jump to > Renewal Cost | Replace Vehicle Registration | Renew Registration Online
Let's get started!
How to Renew Florida Vehicle Registration?
Renewing your Florida vehicle registration is a crucial requirement that ensures legality and validity of your vehicle. You can renew the registration online, in person, by mail or even via mobile apps such as MyEasyGov and MV Express Kiosk.
The Florida vehicle registration renewal process involves submitting required documents, paying the fees through the auto tag renewals system, updating any new information on the renewal form if necessary and keeping track of deadlines for tag renewals.
Steps to Renew Florida Vehicle Registration Online
Here are the steps to renew your Florida vehicle registration online:
Visit the Florida MyDMV Portal site. This is a handy tool created FLHSMV.
You need to log in to your MYDMV account or create one if you don't have it.
Enter your license plate number or VIN (Vehicle Identification Number). Fill out your date of birth into the required field. For a company, enter the date of first registration instead.
Look for a PIN (Personal Identification Number) on your renewal notice. Type this into the correct field.
Follow all other listed instructions properly.
Pay the fee for renewing your vehicle registration.
Renew via Mobile App
You can handle car tag work fast with a mobile app. The Florida Highway Safety Department made the MyFlorida mobile app for this job. This tool lets you renew your auto or boat tags right from your phone.
It works on different kinds of phones and it's easy to use.
First, download the MyFlorida app on your phone. Then, open it up and look for "renew vehicle registration." Tap that option and follow all steps shown on-screen until you finish. The process is safe, quick, and useful so try using this method to get it done without hassle.
Renewing FL Registration In Person
Getting your car registration renewed in Florida is quite simple. Here's how:
Plan a visit to the local motor vehicle service center. These centers help with all things related to your vehicle.
Bring along your old registration details as proof of ownership. It is important that you show this.
Take some money for renewal fees. The charges can vary, but be prepared nonetheless.
Always check if you need to change address information during renewal time.
Use the Florida DMV's MyDMV Portal if possible. This helps speed up the process and makes it easy for all involved.
Find more help on how to renew Florida vehicle registration in person at online sites.
Florida Registration Renewal By Mail
Renewing your Florida vehicle registration by mail is possible under certain conditions. Here are the simple steps to follow:
Look at your renewal notice first. It will tell you if you can renew by mail.
Fill out any required DMV forms.
Make sure to have a change of address validation decal if needed.
Check the mailin registration renewal box on your form.
Prepare a check for the fee listed on your renewal notice.
Mail everything, including money for fees, to the Tax Collector's office.
Wait for your renewed registration in the mail.
Vehicle Registration Renewal Cost in Florida
The cost to renew your vehicle in Florida changes with the weight of the vehicle. Cars between 2500 and 3499 pounds need $36.10 for renewal. Bigger cars that weigh more than 3500 pounds have a fee of $46.10.
If you are renewing many cars at once, you need an extra $3.50 for each one renewed.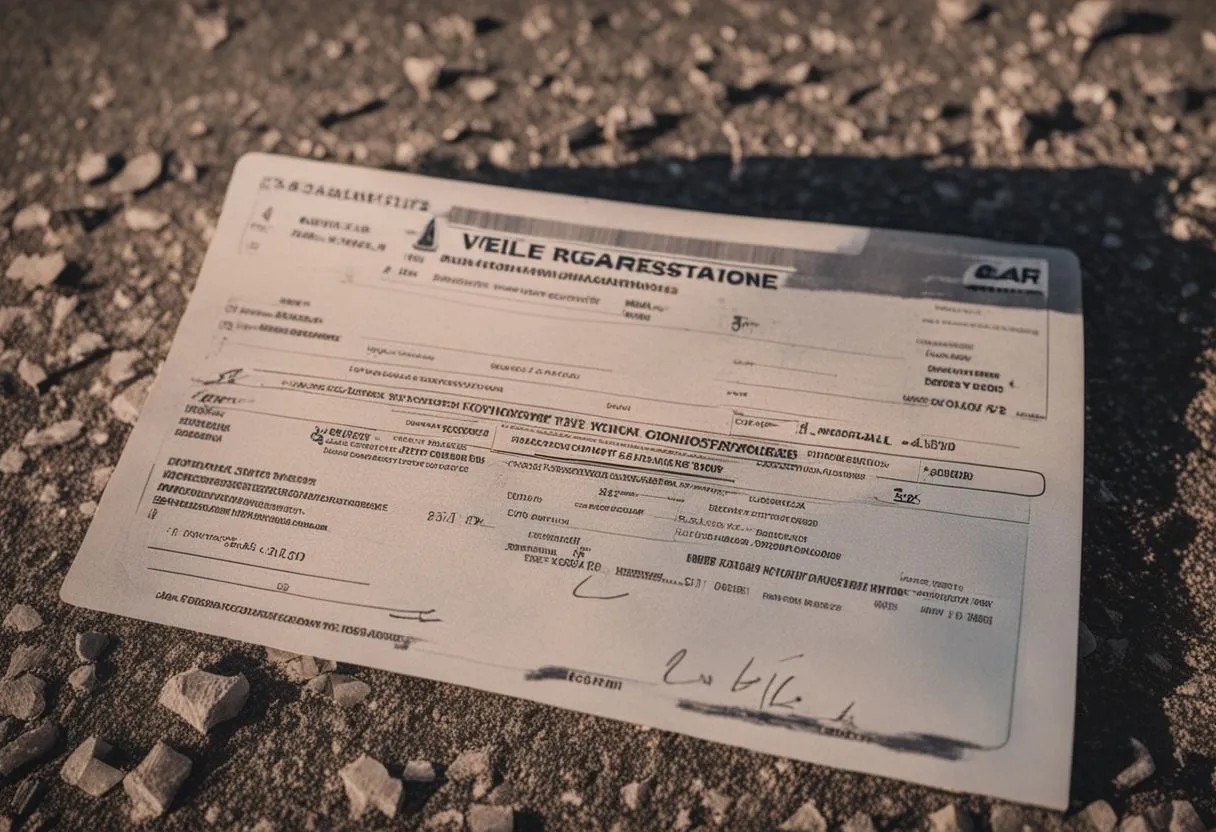 Replace a Lost or Damaged Vehicle Registration
If your Florida vehicle registration has been lost or damaged, you need to follow certain steps for a replacement, which involves proving the loss, filling out paperwork and paying associated fees at the Florida Department of Highway Safety and Motor Vehicles (DHSMV).
You can also replace damaged license plates by adhering to specific procedures set by the DHSMV. In our comprehensive guide below, we will walk through all these processes in detail so that replacing lost or damaged items doesn't seem daunting anymore.
Can You Replace Damaged Florida License Plates?
Yes, you can replace damaged Florida license plates. The owner of the car has to do this. They must apply for a fresh plate if their old one is lost, stolen or hurt. It needs cash to get a new plate.
But, if someone steals your plate and you tell the police, you don't have to pay money for a new one. You cannot give your old plate to somebody else. Only the owner can move it from an old car to a new one.
If somebody takes your tag without asking, tell the police right away and then get a new tag as soon as you can.
How to Get Replacement And Duplicate Florida Registration?
You can replace or get a copy of Florida Registration in different ways. One way is to visit a driver service center near you. At the center, ask for a duplicate registration form and fill it out.
Where To Get A Replacement for Vehicle Registration In Florida?
You have two ways to get a new car registration in Florida if yours is lost or damaged. First, you can go to the driver service center. You'll find these centers all over the state of Florida.
Check online for one near you. A second choice is using GoRenew, an official website run by the Florida Department of Highway Safety and Motor Vehicles. Many people find this way quicker and simpler than visiting a center in person.
For some folks who don't like computers or don't have access to one, they can use their local Tax Collector agency or motor vehicle services instead.
How Much Does it Cost to Replace Vehicle Registration in Florida?
You need to pay some fees if you want to replace your vehicle registration in Florida. The usual cost is about $5.00, but there may be extra small fees as well. This exact amount will be given when you ask for the replacement.
If you lost or damaged your registration and need a new one right away, going in person can help speed things up. But keep in mind that there is usually a $2 service charge added to the $2.50 replacement fee at most places where you get this done.
Have you bought a car? If it's new or used and doesn't come with its own license plate, an initial registration payment of $225 might be added on top of other costs. Also, don't forget that renewing by mail comes with another fee of $10.90 for a two-year sticker for cars in Florida.
Florida DMV Contact Information
You can easily access the Florida DMV through a multitude of channels including various locations, useful phone numbers, and even via email or traditional mail. Stay tuned to know all about navigating these resources efficiently in our detailed guide.
Locations
Florida DMV has many places for people to use. In every county, you can find a driver license and motor vehicle service center. Broward County and Palm Beach County also have these centers.
There is also help at the Bureau for Administrative Reviews and the Florida Highway Patrol. They give help with cars too. Another easy way to get what you need is by using MyDMV Portal online.
This site is good because it lets you do a lot of things from your own home.
Phone Number(s)
You can call the Florida DMV for help. The customer service center number is 850-617-2000. They are there to answer your calls during work hours. If you have trouble with a stop on your vehicle's registration, also use this number.
For folks in Naples, reach out to the Collier County DMV office at 239-434-5687. Broward County residents can try the Coral Springs DMV office at 954-765-4697.
Email / Mail
You can also reach Florida's Department of Highway Safety and Motor Vehicles through their email. This method is great if you have any vehicle registration renewal queries or need help with online renewal.
If you like to send a letter, the mailing address for FLHSMV is 2900 Apalachee Parkway, Tallahassee, FL 32399.
It's okay to mail in account creation forms or supporting documents too! Just be sure your name and address match what's on your driver's license and title papers. But keep in mind: drivers must tell them about changes within 30 days.
They want all paperwork up-to-date! Soon, they will reply to solve your problem over customer support email or mail you back at home.