When driving around Florida, travelers come across different toll roads and facilities that need to be paid for. If you don't have a SunPass or any other transponder that works in Florida, don't worry! The state has another option available called the TOLL-BY-PLATE system.
The Florida TOLL-BY-PLATE system works by taking a picture of the vehicle's license plate. After that, the toll fee is sent as a bill to the vehicle owner. The owner can pay these toll invoices conveniently through multiple options.
Pay With Toll Bill Invoice number | Pay Toll with Plate Number
Pay FL Toll by Plate
TOLL-BY-PLATE is a convenient payment option for motorists who do not have a prepaid toll pass like SunPass or any other compatible transponder.
If you have any pending tolls in Florida, then use the TOLL-BY-PLATE (you should have a Toll-by-Plate account) or pay the bill on the Florida's Turnpike official Website.
If you have an invoice number, then use the following method:
Pay for Florida Toll By Plate Invoice
Here is a step-by-step guide to paying for a Florida TOLL BY PLATE Invoice.
Locate the invoice

: Find the specific TOLL BY PLATE invoice you have received through the mail. The invoice will have a unique invoice number and a detailed breakdown of the tolls incurred during your travel.

Visit the SunPass website: Go to the SunPass Toll Enforcement Invoice webpage, which is specifically designed for processing TOLL-BY-PLATE invoice payments.
Enter invoice and plate details: Input the invoice number and license plate number (excluding the state abbreviation). Both of these details can be found on the physical invoice you received.
Verify the invoice details: After entering the required information, click on 'Look Up'. This will retrieve your invoice details for review. Verify that the details displayed match your invoice before proceeding
Choose a payment method: Once you have confirmed the invoice information, select the appropriate payment method. The SunPass system accepts various forms of payment, including credit cards, debit cards, and electronic checks.
Submit the payment: After selecting the payment method, input the necessary payment information, and click on 'Submit Payment'.

Receive a confirmation: Once your payment has been successfully processed, you will receive a confirmation message on the screen or via email. Save or print the confirmation for your records.
Following these steps will help you efficiently pay your Florida TOLL-BY-PLATE invoice. Always make sure to pay the invoice within the stipulated time frame to avoid additional fees and penalties.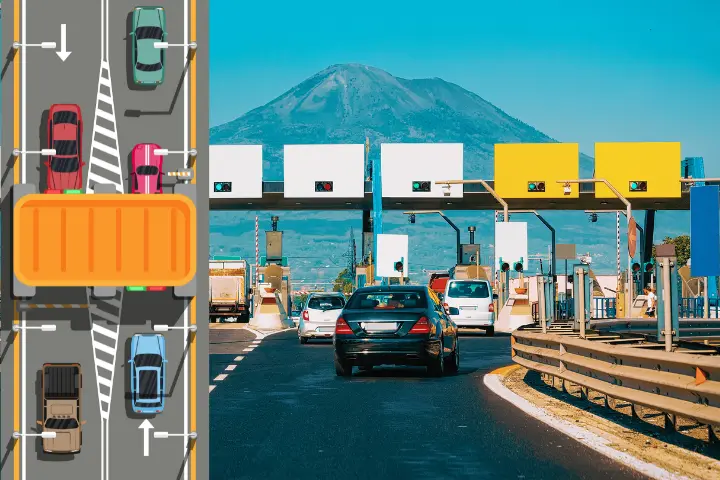 Prepaid Toll Program in Florida
SunPass is a prepaid toll program in Florida that allows motorists to create an account and associate it with their license plate. Users can then add funds to their accounts.
Tolls are automatically deducted as they travel on participating roads.
The SunPass system offers additional features such as automatic account replenishment, discounted toll rates, and convenient online account management.
To sign up or access your account, visit the Florida Department of Highway Safety and Motor Vehicles website.
Electronic Toll Collection in Florida
Electronic toll collection is becoming more common in Florida, with many roads replacing traditional toll booths.
SunPass, the state's all-electronic tolling system, ensures a seamless and efficient travel experience for users.
Vehicles equipped with a compatible transponder, such as SunPass, enjoy the benefits of smoother trips without the need to stop at toll booths or cash lanes.
More information on the electronic toll and SunPass can be found on Florida's Turnpike website.
Pay FL Toll With Cash
Although electronic tolling is becoming more prevalent, some locations still accept cash payments. Drivers can pay the toll with cash at designated toll booths or lanes.
But it is essential to check if the specific road you plan to travel accepts cash payments. For cash payment options and more information, visit Florida's Turnpike's Unpaid Tolls page.
Different Toll Transponders in FL
Florida offers a variety of toll transponders to provide drivers with a more convenient and efficient way to pay for tolls. These devices use electronic payment methods to help motorists avoid stopping at toll booths and save money on toll fees.
We will discuss several popular transponders in Florida, including SunPass, Leeway, Peach Pass, and NC Quick Pass.
SunPass
SunPass is Florida's most widely used electronic toll collection system. It offers drivers the lowest toll rates in the state and is accepted on all Florida toll roads and most toll bridges.
SunPass transponders are interoperable, which means they can be used on toll facilities throughout the state and in some neighboring states. The SunPass system also includes a Toll Relief Program, which helps customers save even more money on tolls.
Leeway
The Lee County Department of Transportation manages Leeway, also known as LeeWay, a regional electronic toll program. It offers drivers the convenience of cashless and stop-free travel on all tolled bridges in Lee County.
Similar to SunPass, Leeway is also interoperable with other state toll systems such as SunPass, Peach Pass, and NC Quick Pass, providing further convenience for frequent toll road users.
Peach Pass
The Peach Pass is a transponder system operated by the State Road and Tollway Authority (SRTA) in Georgia. It allows drivers to use the I-85 Express Lanes in Atlanta and is also accepted in Florida and North Carolina.
Peach Pass users can travel on toll roads in these states without needing to obtain a separate transponder, making cross-state travel more efficient.
NC Quick Pass
The NC Quick Pass is North Carolina's electronic toll collection system, operated by the North Carolina Turnpike Authority. It allows drivers to travel on North Carolina toll facilities and is accepted in Florida and Georgia as well.
This interoperability between the three states provides convenience and cost savings for motorists who frequently travel through these regions.
Overall, the availability of different toll transponders in Florida and nearby states makes it easier for drivers to travel on toll roads, bridges, and express lanes without needing to stop and pay cash. By using electronic payment systems and offering interoperability, these transponders provide a more efficient and cost-effective method of paying for tolls in the region.
How to check if You owe a toll in Florida?
To check if you owe a toll in Florida, you can visit the SunPass website and follow their instructions to search for any missed tolls or violations associated with your vehicle's license plate number. Additionally, if you have received a Toll Violation notice in the mail, you can visit the Florida Department of Highway Safety and Motor Vehicles website to handle the violation and make payments if necessary.
What are the Toll payment options for tourists in Florida?
Tourists who plan to travel on Florida's toll roads have several payment options. One option is to use the electronic Prepaid Toll Program, SunPass. By becoming a SunPass customer, you will pay the lowest toll rate in Florida and save an average of 25% on your tolls compared to cash and TOLL-BY-PLATE customers. If you don't have SunPass or other compatible transponders, the TOLL-BY-PLATE system is also available.
How does the TOLL-BY-PLATE system work on the Florida Turnpike?
The TOLL-BY-PLATE system is designed for motorists who do not have SunPass or any other Florida-compatible transponders while traveling on electronic toll collection facilities. When you use the TOLL-BY-PLATE system, your vehicle's license plate is photographed as it passes through a tolling location. The registered vehicle owner will then receive an invoice for the tolls, and they can pay it online, over the phone, or by mail.